Concrete, metal and asphalt on flexible boards with original imi-surface.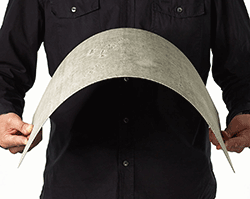 Unusual shapes and coatings made of materials for which it is not self-evident. The flexible HPL-boards (laminate) are easy to process and weigh only approx. 2 kg per m². The robust surface structure makes the Flex board highly resilient.
The product is ecologically harmless and currently available in many surface options.
The carrier board is a 0.9 mm HPL-board. The rear is HPL – raw.
Product description and benefits
Application examples gallery
| Decor-no. Description | Article-No. | Thickness in mm | Weight per sqm | Dimensions in mm |
| --- | --- | --- | --- | --- |
| 120 imi-beton smooth formwork grey Flex | | | | |
| 121 imi-beton smooth formwork anthracite Flex | | | | |
| 122 imi-beton timber formwork Flex | | | | |
| 223 imi-beton vintage light Flex | | | | |
| 224 imi-beton vintage standard Flex | | | | |
| 226 imi-beton vintage anthracite Flex | | | | |
| | | | | |
| | | | | |
| 331 imi-rost diamond Flex | | | | |
| 341 imi-precious rust Flex | | | | |
| 120 imi-beton smooth formwork grey Flex Plus | | | | |
| 121 imi-beton smooth formwork anthracite Flex Plus | | | | |
| | | | | |
| | | | | |
| 743 imi-metal steel diamond Flex | | | | |
| 744 imi-metal copper Flex | | | | |
| 745 imi-metal verdigris Flex | | | | |
| 746 imi-metal copper diamond Flex | | | | |
| 747 imi-metal verdigris diamond Flex | | | | |
| | | | | |