Plus – closed-pored surface, more resilient and easy-care.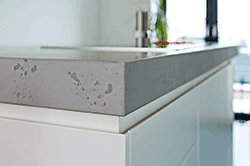 It looks like concrete. imi-beton Plus is a flexible mineral mass with natural marble shares, however, weighing less than concrete and therefore being much more flexible to use.
The surface is additionally sealed with a special resin, the coating is fully grouted and therefore very hard and resilient. This leads to visual appealing options for counters and worktops with a 3D-depth effect.
With the Plus version you can design surfaces in concrete looks that will be highly loaded. The combination of light-weight material and hard surface is ideal for restaurants, hotels, shop furnishings and kitchens.
The Plus version can be manufactured and delivered precisely to your wishes.
The Plus composite material board is available in 3 thicknesses and 3 designs:
The standard board 20 mm comprises of a 19 mm MDF core board with a smooth white melamine coating on the back.
The standard board 21 mm comprises of a 20 mm PUR core board, the back is raw.
The standard board 4 mm comprises of a 3 mm HDF core board painted white on the back.
Product description and benefits
Application examples gallery
Standard format

Large format

Maximum format

2.600 x 1.010 mm
(PUR-coreboard 2.380 x 1.300 mm)

3.400 x 1.300 mm
(PUR-coreboard 3.380 x 1.300 mm)
| Decor-no. Description | Article-No. | Coreboard / Thickness in mm | Weight per sqm | Dimensions in mm |
| --- | --- | --- | --- | --- |
| 120P imi-beton smooth formwork grey Plus | | | | |
| 121P imi-beton smooth formwork anthracite Plus | | | | |
| 224P imi-beton vintage standard Plus | | | | |
| 120P imi-beton smooth formwork grey Plus | | | | |
| 121P imi-beton smooth formwork anthracite Plus | | | | |
| 224P imi-beton vintage standard Plus | | | | |
| 120P imi-beton smooth formwork grey Plus | | | | |
| 121P imi-beton smooth formwork anthracite Plus | | | | |
| 120P imi-beton smooth formwork grey Plus | | | | |
| 121P imi-beton smooth formwork anthracite Plus | | | | |
| 224P imi-beton vintage standard Plus | | | | |
| 120P imi-beton smooth formwork grey Plus | | | | |
| 121P imi-beton smooth formwork anthracite Plus | | | | |
| 224P imi-beton vintage standard Plus | | | | |
| 120P imi-beton smooth formwork grey Plus | | | | |
| 121P imi-beton smooth formwork anthracite Plus | | | | |
| 224P imi-beton vintage standard Plus | | | | |
| 120P imi-beton smooth formwork grey Plus | | | | |
| 121P imi-beton smooth formwork anthracite Plus | | | | |
| 224P imi-beton vintage standard Plus | | | | |