Organic concrete mat for ecological living and working.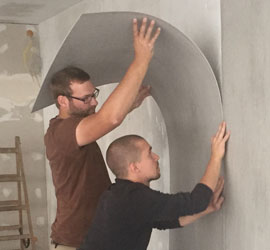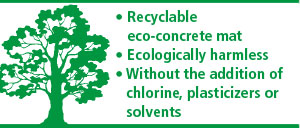 The imi-beton mat meets the highest standards of sustainability and environmental compatibility. The imi-beton mat is a bio-mat made of polyurethane with a design surface in authentic decors such as concrete, rust and asphalt. imi-beton mat is mainly made from vegetable oils such as rapeseed or castor oil and naturally occurring mineral components such as chalk. The imi-beton mat consists mainly of renewable raw materials and natural fillers – without PVC, plasticizers, solvents and is therefore low in harmful substances!
Perfect look and feel
The imi-beton mat, impresses with its original concrete look and feel, is extremely hard-wearing and durable, yet still flexible and dimensionally stable.
Simple and fast processing
The imi-beton mat for walls, ceiling and flooring. To be glued with 1-component glue. Large format or in plank or tile format. With 4-sided chamfer or sharp-edged. The right accessories offer solutions for all applications. We will be happy to advise you on all possible applications and customization.
Product description and benefits
Application examples gallery
| Decor-no. Description | Article-No. | Thickness in mm | Weight per sqm | Dimensions in mm |
| --- | --- | --- | --- | --- |
| 224 imi-beton mat vintage (sharp-edged) | | | | |
| 224 imi-beton mat vintage (4-sided chamfer) | | | | |
| 224 imi-beton mat vintage (4-sided chamfer) | | | | |
| 226 imi-beton mat vintage anthracite (sharp-edged) | | | | |
| 329 imi-rost mat (sharp-edged) | | | | |
| 341 imi-rost precious rust mat (sharp-edged) | | | | |
| 621 imi-asphalt mat (sharp-edged) | | | | |